Teaching Across Cultures
Blog Content Interviews // August 04, 2015
If you have been part of the GYROTONIC EXPANSION SYSTEM® global community for any amount of time you've probably experienced the unique interconnectedness of trainers and students around the world. It is special.
We recently found an example that beautifully highlights this real and deep connection, even in the presence of language and cultural differences.
Japanese Master Trainer Akemi Inoue and Italian Master Trainer Pietro Gagliardi recently joined together for an unique event in Japan teaching the GYROKINESIS® Method to artists.
A bit of background: For the last 5 years Akemi has been teaching the Gyrokinesis Method to members of an organization in Japan called Total Health Care for Artists (THCA). The initiative of this association is, "To provide artists with various health care supports, to establish their profession as artists, and to promote development of the arts medicine and science field," (according to the THCA website: http://www.artists-care.com/info/english/).
When THCA began organizing their 10th anniversary celebration for 2015 they approached Akemi about being a part of the event. She agreed and asked Pietro to join her. In addition to teaching classes at the THCA event, Pietro also conducted a GYROTONIC® Final Certificate Course, ushering in a new group of Gyrotonic Trainers in Japan.
Without further ado, enjoy these interviews with Master Trainers Akemi Inoue and Pietro Gagliardi…
Q & A with Akemi Inoue, GYROTONIC® and GYROKINESIS® Specialized Master Trainer
Cina: What kind of artists are in the membership of THCA? For example: visual artists, musicians, etc.…
Akemi: Actors/actresses, musicians, vocalists, all kinds of performers & dancers, including traditional Japanese butoh, magicians, painters, etc….
Cina: How did you initially get involved with this organization and teaching?
Akemi: THCA has been introducing & suggesting for years that any body work is good support for artists- eg. Pilates, Alexander Technique, Feldenkrais…. etc. Since they heard about the Gyrokinesis Method and the Gyrotonic Method, they somehow found me, approached me and asked if I could give them an introductory class for their annual seminar. I think that was 6 or 7 years ago. That first introductory class was kind of popular amongst not only dancers but also other artists, which actually THCA wanted to see, because their main goal is to support any kind of artists, not just dancers…
Since then, THCA always likes to include the Gyrokinesis Method in their annual seminar. So, I have been invited many times and I think Master Trainer, Etsuko Yamazaki as well.
Cina: How does the Gyrokinesis Method benefit these artists?
Akemi: I teach these artists Gyrokinesis classes only once a year at this special event, so it is not an ideal scenario to receive or hear the long term testimonials, but…. THCA established funds to help one injured artist every year. One year, they picked up a unique male performer who had suffered with a spinal injury. He is an actor, but also a dancer and a choreographer and has a background as a baseball player. THCA made a recovery plan for him and payed for his exercise and treatment for 6 months. I worked with him once a week as an exercise teacher and gave him homework. He did great and is now back to his career.
Regarding Pietro's involvement, Pietro guided classes with simple words and movements, in a way to attract participants deeply. He has that talent as his natural gift. It was a very special opportunity to share the Gyrokinesis Method with many different kinds of artists.
---
Q & A with Pietro Gagliardi, GYROTONIC® and GYROKINESIS® Specialized Master Trainer
Cina: How do you feel the Gyrokinesis Method benefits the artists you taught at the THCA event?
Pietro: The inspiration that an artist can get from the Gyrokinesis Method is profound. Moving the energy all over the body represents a better tuning of all the cells toward the creative wave, allowing life to spread all around the human being. The awakening of the senses is total and complete, but it takes a long time to refine one's sensitivity. Over 25 years of teaching, I have had the opportunity to work with artists of different disciplines and what I have observed most is how clear and harmonious their language and their message toward their Truth becomes.
Cina: You are an Italian native, and came to Japan to teach the Gyrokinesis Method to artists at the THCA event, and also to conduct a Gyrotonic Final Certificate Course to Japanese Gyrotonic Apprentice Trainers. What was it like conducting classes & courses in an environment where the language & culture were quite different than your own.
Pietro: The experience that I had in Japan was very interesting especially for the cultural differences. First of all, I found that all the students in the final certificate course were very well prepared, not only because of their Master Trainers, who did a great job teaching them, but I think because there is some difference in their approach to everything. They are very serious and they work very hard for a better understanding of how the Methods can affect the human body in different contexts like training or therapeutic purposes. The questions they asked me showed that they had researched and had a deep knowledge, not only a superficial curiosity. I have to say that in general people who approach the Gyrotonic Method always want to go a little bit more deeply in the knowledge of the movement. I felt that all the students gave 100%.
Cina: Do you have advice for trainers who teach in countries, and cultures that are different from their own?
Pietro: The only advice is to take care with the cultural differences, and the different ways of relating from culture to culture.
Cina: Did you have to change your teaching approach because of the cultural differences?
Pietro: I had to pay attention to the confidentiality of the Japanese. But the body language that we all use with the Gyrotonic Method is universal and very elegant and it helped me a lot.
Pietro: I would like to share with all our community how wonderful my experience in Tokyo has been.
First, I have to officially thank Akemi Inoue a lot in the name of all of us for the great work she is doing promoting the GYROTONIC® Method in Japan; the expectation that the THCA (Total Health Care for Artists) members had on our participation let me understand how Akemi has shown the potential of Juliu's methodology very well.
I would like, as well, to congratulate the Japanese Master Trainers Etzuko Yamazaki, Naoko Moriyama Robbins and Akemi Inoue for the excellent work they did with their Gyrotonic Apprentice Trainers. The participants at the Gyrotonic Method final certification course showed great quality in their movement. Also, the understanding added to an enthusiasm that touched me a lot. I believe that we can be proud of our Japanese friends.
Last, I would like to thank, from the heart, Juliu. You who give me the honor to be part of this dream.
Thank you all,
-Pietro
We love to share the ways people are practicing and taking the Gyrokinesis & Gyrotonic Methods around the world. Please share with us your cross culture experiences in the comments section below.

"Our common language is the work. It transcends barriers and connects us." – Sarah Simpson
————————-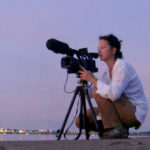 Cina Canada is a GYROTONIC® Trainer and the Media Coordinator for GYROTONIC® International Headquarters.
---
---